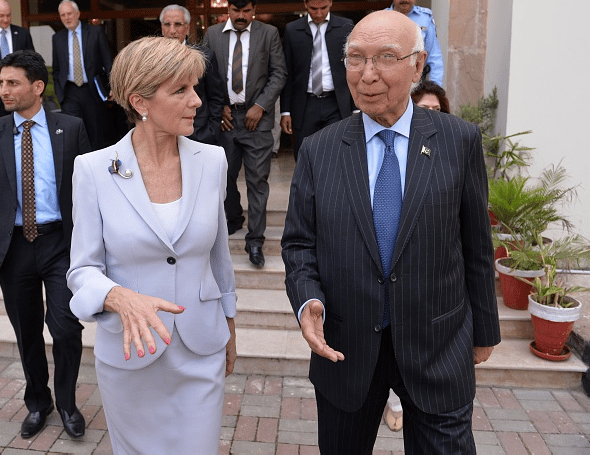 Foreign Minister Julie Bishop shares her growing concern for women living in Pakistan in her fortnightly column for Mamamia.
In my first month as Foreign Minister, I was fortunate to meet Malala. Like so many around the world, I was inspired that someone so young could be such a strong advocate for an issue that is of deep concern nationally, regionally, and globally.
It was Malala's example that inspired this year's theme for 'Australia Day in Spring' in Pakistan – 'Promoting Gender Equality and Empowering Women and Girls for the Future'. Australian women, including former MasterChef Australia contestant Faiza Rehman, travelled to Pakistan to share their skills with young Pakistani women.
During my visit to Islamabad earlier this month I hosted a dinner for influential women from federal and provincial parliaments, business and civil society. The aim of the dinner was to reflect on the achievements of exceptional women like Malala and to hear first-hand the issues affecting women and girls in Pakistan.
Read more: Justice at last. The men who attacked Malala have been sentenced.
It was evident that women and girls in Pakistan face some serious challenges.
For example, Pakistan's female workforce participation is 22 per cent compared to 69 per cent for men. Low education rates for women and girls makes workforce participation difficult.
It is estimated that 63 per cent of girls aged 15-24 are illiterate, with more than three million young girls not attending school.