We all have some form of a dating checklist. A catalogue of must-haves and deal-breakers that help guide us on the search for love.
Do they have a sense of humour? Are they self-confident? Polite? Kind? And so on and so on. But where does it stop?
Should you, for example, rule someone out based on something as elementary as their height?
Married at First Sight contestant and hair salon manager Cheryl certainly would.
"He needs to be taller than me," she stressed on last night's episode of Channel 9's experimental matchmaking show. (Of course, because television is glorious, her new 'hubby' isn't.)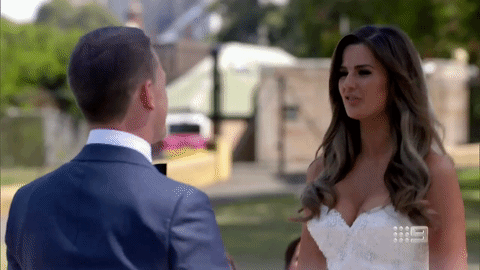 But it got us wondering, do other women feel strongly about their partner's relative stature? We asked some, and this is what they said:
"My ex was a bit shorter - probably a few centimetres - and I briefly dated a guy who was a head shorter than me. To be honest, it makes me feel like a giant (as I'm already really tall). As much as I'd like to be OK with it, I feel extremely conscious of the height difference. Just once in my life it would be nice to be the 'petite' one."
"I kissed a man who was shorter than me once. I felt like I was going to crush him. I also felt like I was kissing my little brother."
"It depends on how much I like the person. But if they have 'short man syndrome', then it wouldn't matter how much I liked them - I just couldn't deal with the ego." (Post continues after gallery.)
Standing tall. Famous women with shorter fellas.