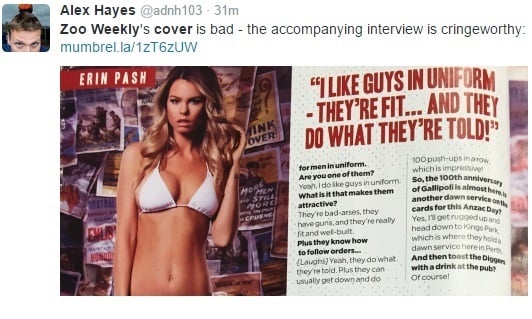 Update:
Mamamia spoke to the Department of Veteran's Affairs about the whether Zoo Magazine sought permission for their 'commemorative issue' – and, well, you may not be surprised:
Any use of the word 'Anzac' without permission is entirely inappropriate. Zoo Magazine did not seek permission to use the word ANZAC in association with their commemorative issue. When DVA became aware of this issue contact was made with Zoo Magazine informing them that the advertising must be removed.
Some good news – Zoo Magazine has apologised and advised DVA that the online advertising has been removed.
Previously, Mamamia reported:
Zoo Weekly magazine has created a 'commemorative issue' for ANZAC day.
The issue, on sale for Anzac Day's 100 Year Anniversary, features a woman in a white bikini, holding a poppy next to the headline "100 things every Aussie should know about Gallipoli".
According to Mumbrella, an interview inside the magazine features model Erin Pash declaring: "Yeah, I do like guys in uniform. They're bad arses, they have guns and they're really fit and well built".
To this, the interviewer responds: "Plus they know how to follow orders…"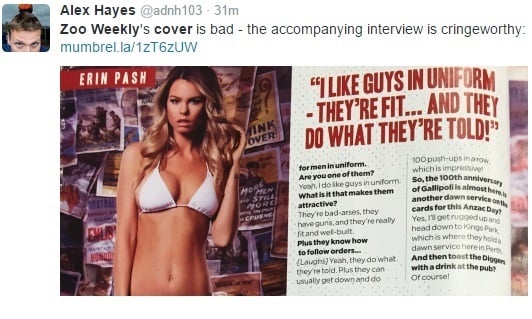 Crikey reports the Department of Veterans Affairs was not told about the edition in advance  — a fact that could see the men's magazine in hot water, since use of the word "ANZAC" is protected by regulations, and there are heavy penalties for misusing the word.
While the magazine's cover does not use the word "ANZAC", its advertising on Facebook refers to as the "Special Anzac Centenary Issue".
Zoo's cover has not been received well on social media, with Twitter users already slamming the cover as "sick" and "embarrassing".