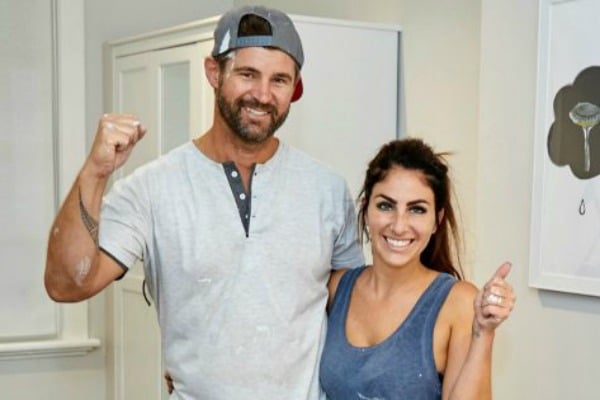 When Sara and Hayden took out the top spot in this week's The Block finale, fans of the show…weren't happy about it.
Not only were the controversial couple this season's "villains", widely criticised for their on-screen behaviour, but they frequently received the lowest scores from judges.
Throughout the competition, they only won one room, and at one point received the lowest score three weeks in a row.
Watch Sara and Hayden fight over a door. Post continues after the video…
So how did they manage to take out the winning title, raking in a $545,000 profit from their apartment's $3,020,000 auction sale price?
Well, Sara, who announced she is expecting her second child before the finale, has lifted the lid on the real reason behind the duo's success in the competition in an interview with 9Honey Homes on Tuesday.
Apparently, while they were constantly slammed for their styling choices, the "bones" of their rooms gave them a winning edge against the other teams.
"We kept getting the bones right every single week, it was just more about the styling. We had time to go back and re-style and fix things," she said, revealing that they were given the opportunity to implement the judges' feedback.
She added that 'bang for buck' was another contributing factor to the high sale price.
"In such a bad market, people are looking for space and more bang for their buck. They want a good amount of square metres for a good price, and that's why I think the three apartments in The Gatwick did so well," she said.
While this may have been the case, it doesn't change the fact that The Block fans were disappointed by the final result – and they were certainly vocal about it on Twitter.
Australians celebrating Sara and Hayden's win #9theblock pic.twitter.com/usmu9bM58A

— Alex????️‍???????? (@shouldabeenAlex) October 28, 2018