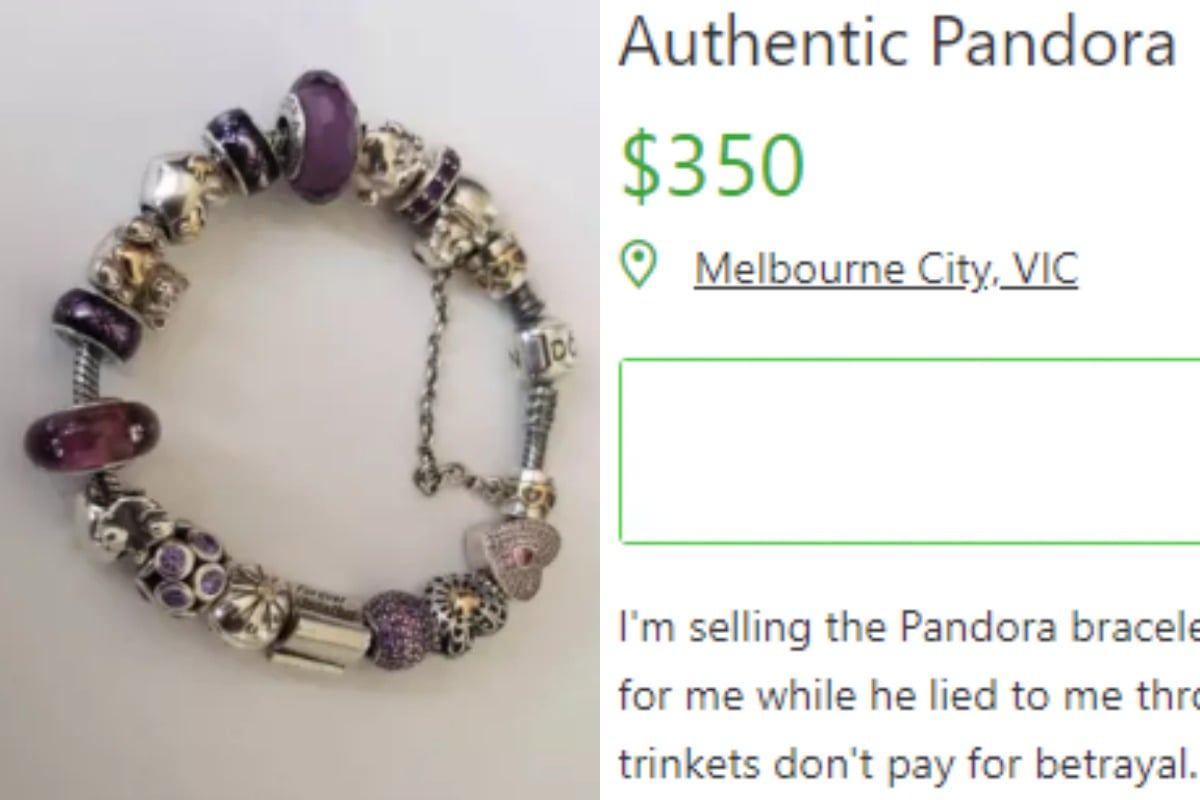 A Melbourne woman is selling the charm bracelet her ex-husband gave her with what has to be the sassiest Gumtree ad ever.
The unnamed woman posted the ad for an "authentic Pandora bracelet" on New Year's Eve and it's since been shared widely.
Probably because she describes the item like this: "I'm selling the Pandora bracelet that my ex-husband thoughtfully put together for me while he lied to me throughout our marriage.
"It turns out that pretty trinkets don't pay for betrayal."
BURN.
Watch: Have you ever cheated on your work wife? Post continues after.
The scorned woman – whose post suggest her husband cheated on her or at least lied to her for a long time in a significant way – then goes on to describe each charm on the bracelet with equally biting remarks.
She describes the safety chain as "designed to keep the bracelet together better than our marriage".
The woman also compares the chick on the bracelet to "the babies he was trying to force me to have because he wanted babies before he was 30 and wouldn't entertain the discussion about what I wanted". Which suggests there were multiple contributing factors to the marriage breakdown.
Again she hints at cheating when she says a heart charm with a gold arrow symbolises "the pain in my heart when I found out about the lies. And then again, when I found out how long they'd been going on for".
But our favourite description has got to be of the "limited edition" teddy bear charm – wait for it – "much like the limited nature of his trustworthiness".
She also suggests that her ex was jealous, and potentially violent, describing the time he threw a glass in her direction when she was turning down another man.
One charm she notes was ironically named "forever together" to which she says "apparently not".
Anyone wishing to purchase the bracelet for the, we think, reasonable price of $350, can pay for it with cash or PayPal because "apparently tears of my enemy is not a legitimate payment type".
It's still for sale, so if you know someone who'd like a souvenir from a stranger's broken marriage, you know where to find them the perfect gift.