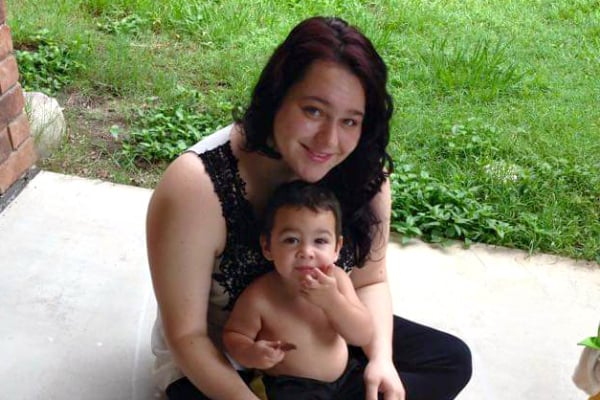 Joeleen Koszyk's partner and family noticed her dependence on painkillers long before she could acknowledge it herself.
What started with a prescription after back surgery in September 2014 had become a crippling habit. At the peak of her dependence, the Queensland mother was taking 35-40 tablets each day. Her loved ones watched as she swallowed pill after pill, and noted her panic if she left the house without them.
"Everyone was really worried, but I kept taking them and I kept having fights over it. I'd insist that I could stop," Joeleen, 26, told Mamamia. "I was like, 'OK, well, this is my last painkiller; I'm just going to stop and prove you all wrong. I'll show you.'"
On a Friday night, mid 2016, Joeleen took that last tablet. By the Saturday she was in so much agony, she couldn't move from the couch. She was vomiting, had diarrhoea, her whole body was shaking; "I wanted to die. I told my partner I wanted to die." By the Sunday afternoon she turned the house upside down to find her prescription.
"I found it. I got in my car drove straight down to the chemist where they gave me the medication. I didn't even wait 'til I got home. I got back in the car and took the medication right there in the car park," she said. "Then instead of going home to my partner at the time and my son, I drove to my parents' house. I just sat on the floor in their kitchen, and just cried. I cried my eyes out, because I realised that I had a problem."
How to help a friend or loved one who might be dependant on pharmaceutical drugs. (Post continues.)

According to the 2016 National Drug Strategy Household Survey, roughly 1 million Australians reported having used pharmaceutical drugs non-medically — in other words, not in keeping with a prescription — in the previous 12 months.
That's higher than the use of all illicit drugs, except cannabis.
The two most common pharmaceutical drugs in those statistics are: opioids (painkillers, including including oxycodone, codeine and morphine), and benzodiazepines (sleeping pills, including temazepam, nitrazepam, diazepam, oxazepam and alprazolam).
These are medications that improve the quality of life of millions; they alleviating crippling pain during rehabilitation, they give people respite from insomnia as they undergo psychological treatment. But, when taken long-term and/or without proper medical advice, they also have the potential to lead to life-altering dependence.
And that's a growing problem in Australia.
Dr Suzanne Nielsen, Associate Professor and Deputy Director of the Monash Addiction Research Centre, told Mamamia that the number of people seeking non-medication treatment options for codeine and oxycodone dependence, for example, tripled between 2002 to 2011. And it has continued to rise since then.