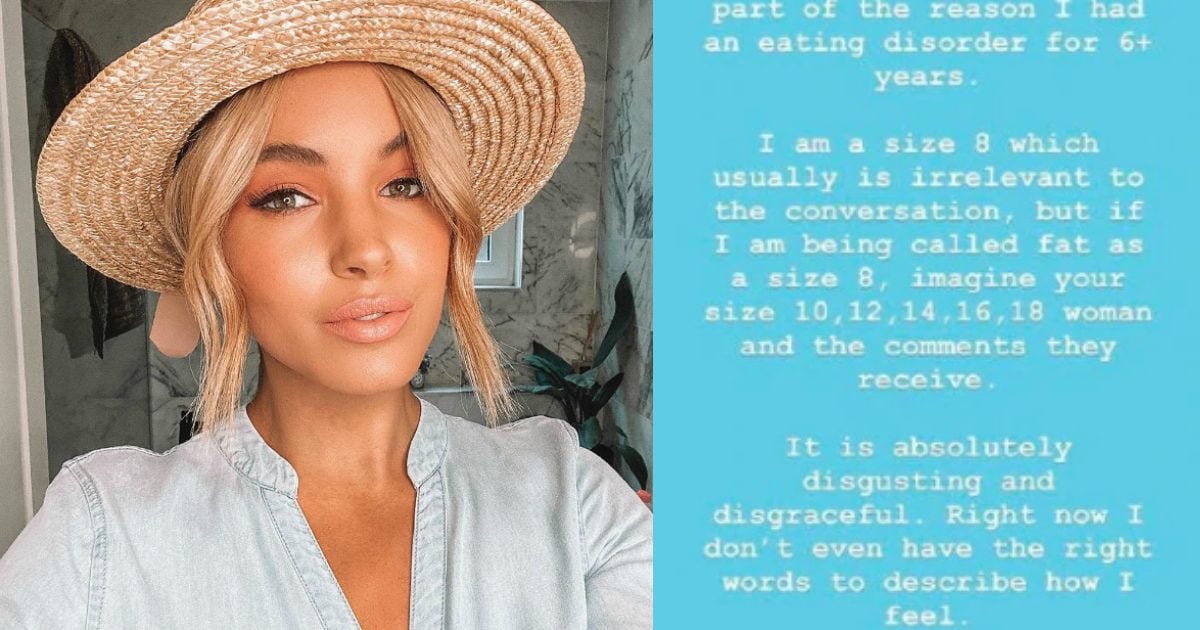 1. Ummm. Miss Universe Australia Olivia Molly Rogers was just picked apart over her bikini body and seriously?
It's 2020 and one thing's for certain, no one should have to deal with body-shaming.
Unfortunately, former Miss Universe Australia, Olivia Molly Rogers, has been picked apart over her bikini body, after posting a photo of her relaxing by the pool while on a holiday.
"Poolside in Perth with all the essentials. Sunscreen, hat, sunnies & rosé (ft. some blotchy fake tan)," Olivia captioned the post.
Sadly, after sharing the photo Olivia received a comment from a faceless person on the internet. They demanded that she take the photo down because apparently, in their unsolicited opinion, Olivia was "too fat to be on Instagram"… which is absolutely ridiculous.
Olivia called out the troll on her Instagram story as a reminder of how hurtful body-shaming can be.
"People who comment things like that are a big part of the reason young girls develop issues with their weight and bodies," she wrote.
"They are a big part of the reason I had an eating disorder for 6+ years.
"I am a size 8 which usually is irrelevant to the conversation, but if I am being called fat as a size 8, imagine your size 10, 12, 14, 16, 18 woman and the comments they receive."
Olivia, who celebrated her 2017 Miss Universe Australia win with champagne and a Big Mac, has always been vocal about women's health issues including her own.
After the post, Olivia's account was flooded with body-positive messages from women who, like us, won't stand for any form of body-shaming.