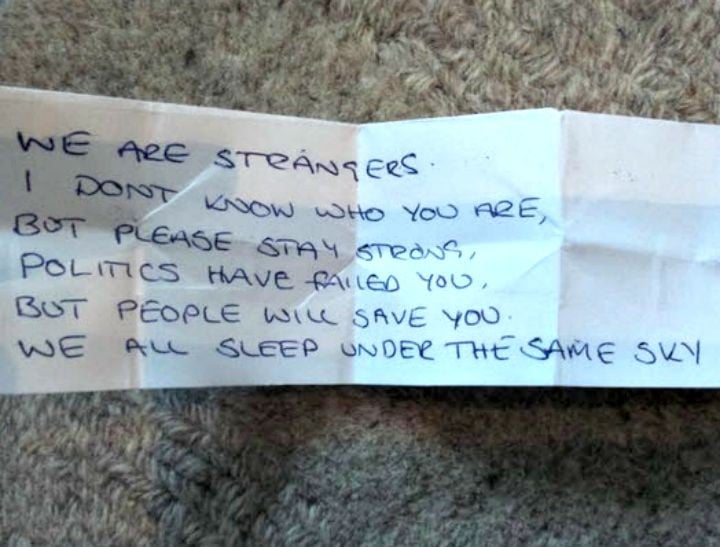 Sometimes it's the simple messages that are the most powerful.
Two UK women who set up their own organisation to help Syrian refugees were brought to tears after finding an anonymous note in some donated clothing this week.
Angela Kerrigan and Jo Kenmuir, from Ayrshire in Scotland, started the 'Killie to Calais' initiative to help refugees and migrants who had arrived in Europe.
They were inundated by donations of money and clothing – and while sorting through those donations, they found a note left for a refugee in a jacket pocket.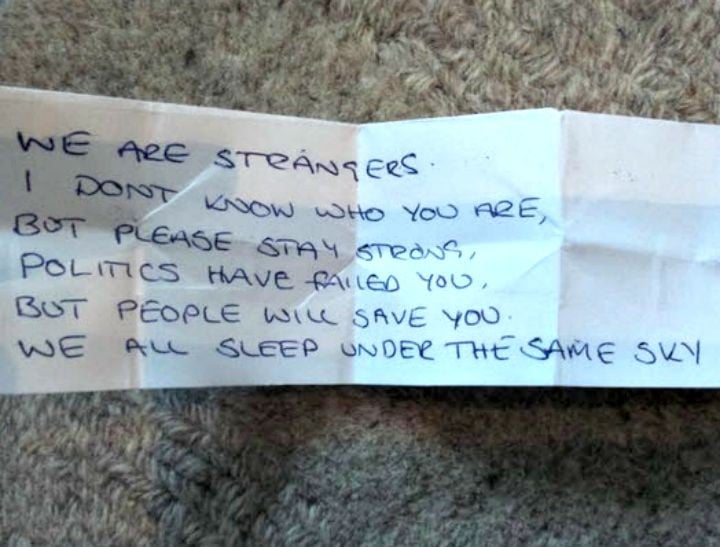 It read:
We are strangers.

I don't know who you are, but please stay strong.

Politics have failed you, but people will save you.

We all sleep under the same sky.
Ms Kerrigan, 30, said she started Killie to Calais after being touched by the story of Aylan Kurdi, the little Syrian boy who drowned while his family attempted to travel from Turkey to Europe.
She told i100.co.uk she was touched by the note:
"As a human being, how can you stand back and not do anything? I saw those photos, looked at my daughter and thought 'I have to do something'," she said.
"It was a real show of human compassion and what was said was so true. I was very touched, and it makes everything worth it."
At a time when there's so much going wrong in the world, here's a much-needed reminder that there's still plenty kindness and decency around.
What message would you like to pass on to Syrian refugees?