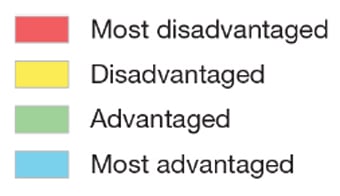 By JOSIE TAYLOR and ALISON BRANLEY.
Australia is doing little to help people in its poorest areas and disadvantage is becoming entrenched in select suburbs, new figures show.
A report released today by Catholic advocacy groups Jesuit Social Services and Catholic Social Services Australia has listed the most disadvantaged suburbs and towns in Australia and has detailed the reasons why they are in that state.
The report, based on data gathered by the service every seven years, revealed little has been achieved over the past 16 years to alleviate difficulties in the most problem-plagued areas of Australia.
Many of the same suburbs continue to feature in its list of the worst-affected postcodes, suggesting there is either nothing being done or what is being done is not working.
The rates of prison incarcerations and criminal convictions show the worst-off areas of Australia are producing a large proportion of inmates.
For example, in NSW about one-quarter of prisoners come from about 3 per cent of postcodes.
In South Australia, one-quarter of prison inmates come from 5.5 per cent of regions.
In Victoria, 2 per cent of postcodes make up one-quarter of the prison population.
Unemployment and disaffected youth have continued to hamper any progress in the areas.
Report author Professor Tony Vinson said people in those areas were not getting "a fair go" and it was urgent something be done to break the cycle.
Read more: Will closing Aboriginal communities actually fix the problem?
"I've been looking at communities for 40 years and some of the areas that were disadvantaged then are disadvantaged heavily now," he said.
He said politicians had a misconception that generational change could be achieved inside a political term of three years.
"I would think it would be an enormous breakthrough for this society if it could take one heavily disadvantaged area in each state and territory, work with the local people for say seven or eight years and if we turn those communities around that would be the first time," he said.
Take a closer look below at the findings from the report for each state and territory: