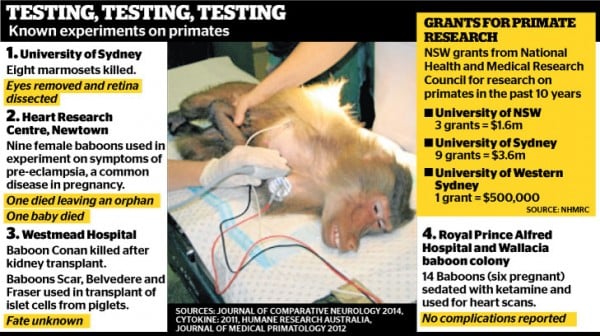 1. 'Frakenstein-like' medical testing being conducted on animals.
In an exclusive report, the Sydney Morning Herald has revealed the number of medical experiments being conducted on primates across Sydney hospitals and universities and in Victoria.
After a six month investigation it was found that masses of animals were being imported into Australia for experimentation or being bred specifically for medical research.
The National Health and Medical Research Council baboon colony, west of Sydney, were found to be testing their baboons, as well as marmoset and macaque colonies in Victoria. Harmful medical research on animals was also discovered at the University of Sydney, the Heart Research Centre in Newtown, Westmead Hospital and Royal Prince Alfred Hospital.
The Sydney Morning Herald writes that one baboon, Conan, was killed during an experiment where a genetically modified pig's kidney was inserted into his own body. Fairfax Media viewed information confirming Conan was 'humanely' killed in March, 2014, after suffering 'disseminated intravascular coagulation'. NSW Health denies that such organ transplants took place.
In experiments conducted at the University of Sydney, it was uncovered that at least eight marmosets were killed after being overdosed by researchers. The marmosets were being used for electrophysical readings of their brains, however, following their deaths, their eyes were removed and retinas dissected.
At the Heart Research Centre, Newtwon, one pregnant baboon died, leaving an orphaned child, as well as one baby, who were being tested on symptoms of pre-eclampsia.