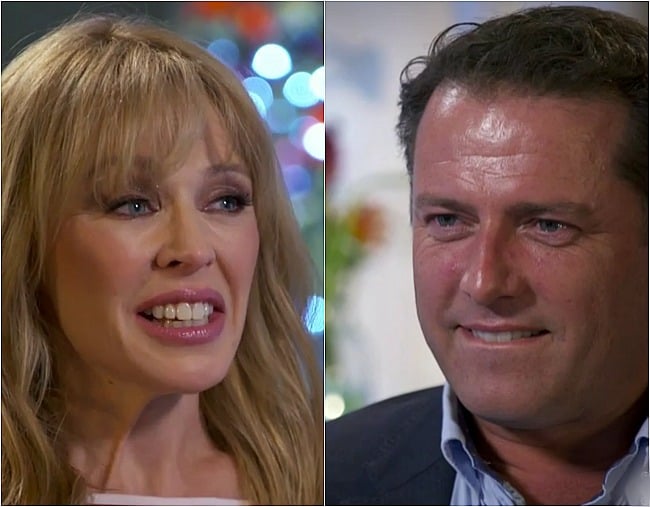 Several viewers of Sunday night's episode of 60 Minutes have accused Karl Stefanovic of being "creepy" following comments he made during an interview with pop icon Kylie Minogue.
The Melbourne-born singer was on the Channel 9 program to promote her new – and 14th – studio album, 'Golden', when discussion turned to her upcoming 50th birthday.
Speaking of close friends who are of a similar age, the 49-year-old said, "One of the beautiful things that I feel from my friends, is that they just go, 'You know what? I'm just going to try to enjoy myself, do the best I can, love the people I love, understand as best as possible where I am in the world, where I may have stuffed it up.'"
To which Stefanovic replied, "Well, you're doing it very well. I mean, it helps, obviously, that you're a hot 50-year-old."
Visibly taken aback, the singer said, "Ah, well thanks. We try, we try… Um, I don't know what to say to that."
It wasn't the only uncomfortable comment Stefanovic made during the segment.
Referencing Minogue's 2017 split from fiancé Joshua Sasse, the Channel 9 journalist said, "Could you stop going for incredibly good looking d**kheads?"
Minogue spoke openly about the separation from the British actor, telling 60 Minutes she feels "fantastic" being on her own, like she has "another chance".
"I wasn't so much heartbroken, just broken as a person," she said. "I didn't feel very present.
"There's some lessons that take a little while to learn. Is it because I'm 49 and 11/12? I don't know. But I do feel like I shed a skin that I perhaps needed to."
The furore comes a month after another 60 Minutes interview came under fire, when journalist Charles Woolley told New Zealand's Prime Minister Jacinda Ardern she was "attractive" and that he was "smitten".