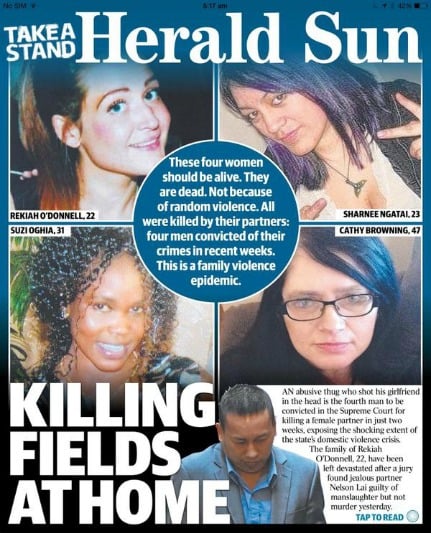 This front page has been a long time in the making.
This morning, news stands across Victoria were filled with copies of a newspaper that read: "Killing Fields At Home."
News Corp tabloid Herald Sun boldly covered its Thursday issue with the faces of four women who died at the hands of their partners: Rekiah O'Donnell, Sharnee Ngatai, Suzi Oghia and Cathy Browning.
The accompanying article contained a call to action from the family of Ms O'Donnell — a 22-year-old girl shot at point blank range by her abusive partner, Nelson Lai.
Mr Lai was found guilty yesterday not or murder but of manslaughter — despite the court hearing that Lai had previously attacked and threatened Ms O'Donnell, even telling her on one occasion: "My mission will be complete when you're gone, slut."