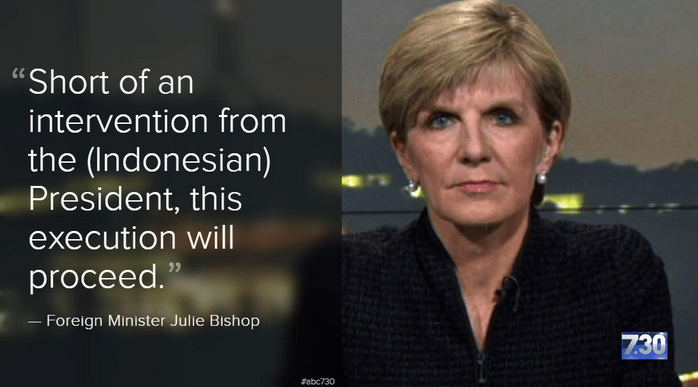 Rolling coverage: This post will be updated during the day. Please refresh your browser for the latest news.
Bali nine ringleaders Myuran Sukumaran and Andrew Chan have been told they will be executed after midnight tonight.
The 72-hour execution notification period expires at midnight tonight, meaning the pair — along with seven other death row criminals — could face the firing squad any time from midnight, ABC News reports.
As their execution looms, we've rounded up the latest updates on the story, which is set to dominate headlines and the Australian political agenda all day.

Vigils are being held around the country in honour of the Australians on death row.
Crowds of people have gathered across the country, lighting candles and hoping for a miracle to stop the pending executions of Sukumaran and Chan.
At Sydney's Martin Place, more than 200 people are calling for the Indonesian government to can the executions.
International human rights lawyer Geoffrey Robertson and Sukumaran's cousin, Andrew Rajeevan, spoke in Sydney.
Julie Bishop says there will be consequences if the executions go ahead.
Foreign minister Julie Bishop has told ABC's 7.30 she assumes that, despite the outstanding legal challenge, she assumes the Indonesian government intends to go ahead with the executions.
Bishop: "They have not responded to any of our requests..I'm obviously very dismayed at what has gone on in recent weeks" #abc730

— Daniel Hurst (@danielhurstbne) April 28, 2015
The families have been subjected to "ghastly" and chaotic ordeal today, says Bishop #abc730 — Daniel Hurst (@danielhurstbne) April 28, 2015