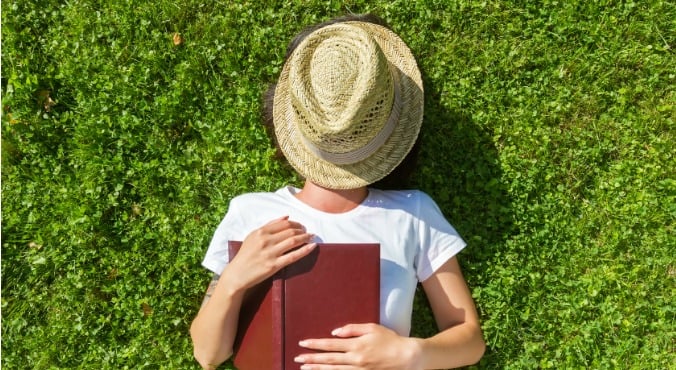 Image: iStock
Here are two things we know for sure.
1. Sleep is important.
2. Falling asleep is not always easy.
And on top of that, you may have heard that there's this thing called the June supermooon happening at the moment – which is inflaming everyone's emotions and making us all a bit cranky.
Of course we already know that there are myriad factors that can keep you wide awake way past your bedtime – nerves, excitement, stress, the weather, caffeine and major astronomical movements. Regardless of why it happens, trying to coax your body into sleep can be immensely frustrating.
The number one reason you're not getting enough sleep at night.
Some of us try counting sheep. Others make silent bargains with their brain to make it just shut up and rest. Then there's the world of sleep-inducing medications — of course, it's always advisable to see your GP if you're having ongoing trouble with sleep.
However, for temporary sleeplessness, there's one sleep-easy technique that's making headlines lately. It costs nothing, it's easy to master, and according to reviews it's both fast and effective.
It's a breathing technique called 4-7-8, and it's really quite straightforward.
First, you exhale loudly through your mouth (and make a nice "whoosh" sound). Then, you breathe in quietly through your nose for a mental count of four, hold your breath for a count of seven, and exhale through your mouth for a count of eight.
Why pressing the snooze button is ruining your sleep.
Dr Andrew Weil, who developed the trick, claims it acts as a "natural tranquilliser for the nervous system" which gets more powerful the more often you practise it. He recommends doing it at least twice a day and only repeating the breaths four times for the first month, upping it to eight when you're more used to it.
Here's a clip of Dr Weil demonstrating the technique:
It sounds simple, but for some people it seems to work.
Just ask Alina Gonzalez, editor of the website Byrdie.com, who recently shared an account of how she tried 4-7-8 breathing in the lead up to a friend's wedding, where she would be making a speech. Gonzalez was struggling to fall asleep due to nerves, but she found the breathing trick knocked her out within seconds, as she writes:
"[T]o my complete disbelief, I woke up the next morning unable to even remember getting to the eighth second of the exhale because it knocked me out that fast. For the next four nights leading up to the big day, even as my stress increased, I was able to fall asleep the minute I tried the 4-7-8 trick."