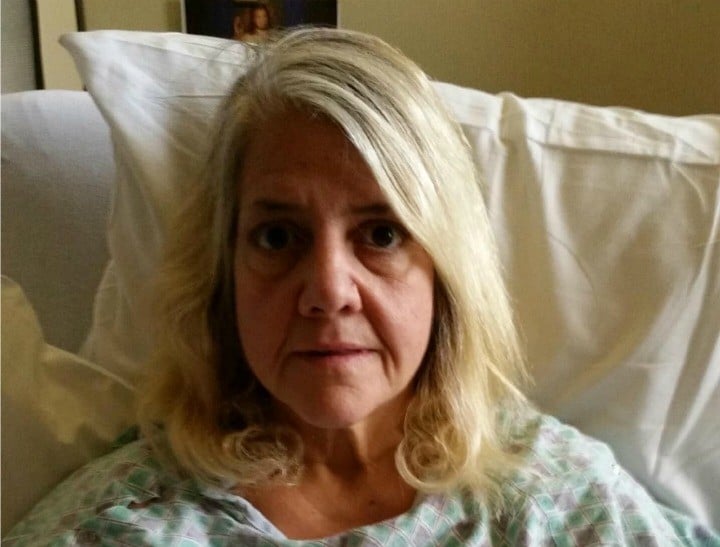 She has an Australian accent and dreams about Perth. But this woman has no idea who she is.
UPDATE:
The missing woman known only as 'Sam' has been identified.
NBC News reports the woman is Ashley Menatta – a resident of San Diego in the United States.
Ms Menatta was identified by her nephew after he recognised her in a news story.
While Ms Menatta was initially believed to be Australian, her strong memories of the land down under were actually from regular holidays she took to Perth.
The 53-year-old told NBC News finding out her identity was "extremely emotional."
Menatta will relocate to Maryland in the United States and live with her sister.
Mamamia previously reported…
'Sam' doesn't know how she came to be in an American hospital with life-threatening cancer. In fact, she doesn't know anything about her past. Doctors believe that her amnesia is associated with advanced ovarian cancer.
An Australian accent and memories of dining in Perth are some of the only clues to her identity.
Now, she asked the internet to help find out who she is.
"You see, I can't remember how I got to the hospital (was by firefighters) or where I was before I came to be at the hospital. I was in dire condition when I arrived and was put in intensive care immediately," Sam wrote on a Facebook page.
"The amnesia I have is called retro amnesia and doctors have seen this before with the kind of antibodies that were found on the volleyball sized tumour that was on my ovary. The doctors said it could have been growing for 5 years causing me to be forgetful of things."
During a seven-hour surgery, doctors discovered that her large tumour was cancerous. They were forced to remove Sam's cervix, uterus, and fallopian tubes – but not before the cancer had spread.
Sam has shared her story on a Facebook page entitled "Found with amnesia – help her find her family."
"It has been a bit over a 3 weeks that I have been out of the hospital and there have been no leads by the authorities on my finding my family. My friends that I have made believe it is time to use the internet ourselves to see if we can find my family or friends," she wrote.