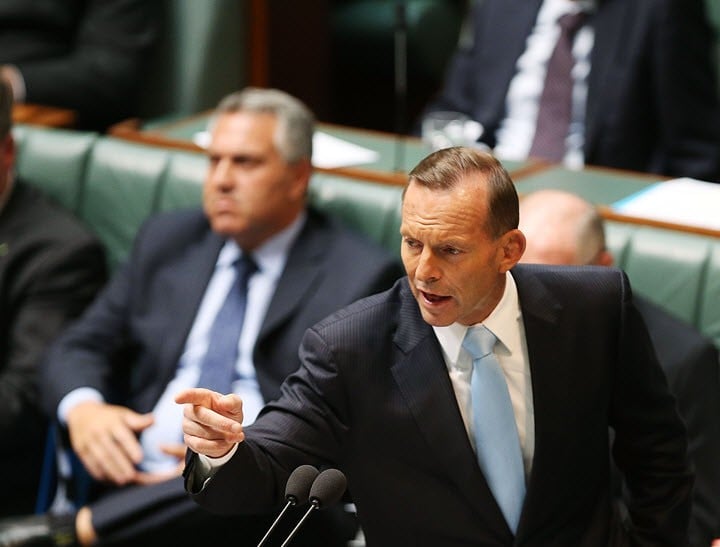 Tony Abbott is still the Prime Minister but his job is far from secure. Many are asking today, how can he possibly continue to lead the Government in the long term?
Victory has never tasted so uncomfortably sour…
Tony Abbott has successfully defeated a motion from his colleagues to spill the federal Liberal Party's leadership positions. But far from looking celebratory, the Abbott who emerged from his party room this morning appeared chastened and visibly shaken.
And no wonder. The reality that two in five of your fellow party members would vote against you – in the face of no declared challenger – is a sobering one. Today's result revealed that in the contest of Tony Abbott versus nobody, nobody managed to garner a whopping 39 votes out of a possible 101.
It's hardly the overwhelming show of support Abbott and his supporters would have been hoping for. Which begs the question: Can the Prime Minister turn his politician fortunes around or is he, as veteran columnist Michelle Grattan predicted earlier today, a 'dead man walking'?
What happened in the party room today?
This morning the Prime Minister awoke to a Newspoll showing that the Australian public prefer Labor to the Coalition by 57-42 two party preferred. Labor's Bill Shorten is their preferred candidate for Prime Minister over Tony Abbott by 48-30.
Read more: EXCLUSIVE POLL: 86% of Australian women want Tony Abbott to step down as PM
It wasn't exactly a positive start to the day for a man facing a ballot to keep his job.
As most commentators predicted, a spill motion was moved in the Liberal Party room this morning and was defeated 61-39. This may look like a clear cut victory but it is far from it. The ABC's Annabel Crab points out that this margin mirrors that of the first Hawke/Keating spill in 1990; Keating eventually went on to become Prime Minister in 1991.