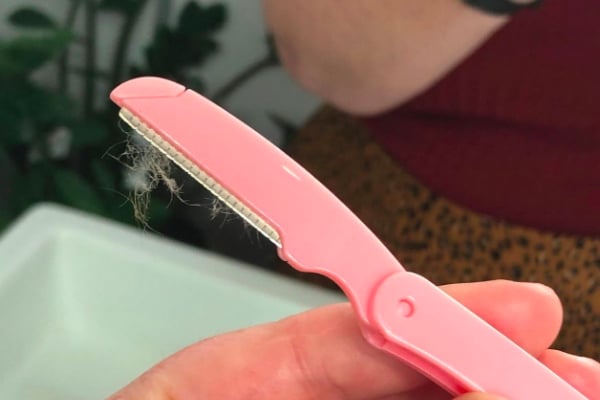 Mamamia's Tried and Tested series drops every Monday and is your weekly review of the latest to hit our desks in beauty, health and wellness. You won't find any #sponsored content here, just honest, relatable and independent advice. This week, Senior Lifestyle Writer Amy Clark road tested a $10 face razor.
This week, I shaved half my face. Don't worry, I'm fine.
You see, I made the strategic decision to only shave half my mug for a very specific reason that'll become clear momentarily.
Face shaving – grown up name, dermaplaning – is the practice of shaving off one's peach fuzz. It's not new, but when budget beauty brand MCoBeauty recently released a $10 face razor, I was intrigued enough to give it a go.
Here's a look at how to use the MCoBeauty razor from Aussie beauty YouTuber Chels Randall. Post continues after video.
Why are people removing their peach fuzz, you ask? While all of us have hairs on our faces and there's nothing wrong with leaving them well alone, some makeup artists and beauty influencers swear shaving them off makes their makeup look infinitely better.
Now, I hope the reason for shaving just the one side of my face is clear: I wanted to see if my makeup would actually look any different post-shave. Here's how that went.
Why shave your face?
Face shaving or in-salon dermaplaning supposedly does lots of great things for your skin. Not only can it remove the teeny, tiny, fluffy hairs on your face to help makeup glide on like soft butter over warm sourdough, but it also takes some dead skin cells off with it.
The result? A face as smooth as a baby seal and the perfect canvas for makeup.
You can hear more about face shaving on the episode of You Beauty below, post continues after audio.
The MCoBeauty Super Smooth Facial & Brow Razor and how to use it.
Before we get into how to use the MCoBeauty razor, here's a few things you should know about this pink contraption:
This razor is designed to remove facial and brow hair for a visibly smoother complexion.
It's made with a curved, foldable handle and a thin stainless steel blade to reach every hairy nook and cranny.
It comes with two extra blades that click onto the handle to replace the current blade when it feels blunt.
You can buy it online on the ModelCo website for $12 or for $10 at your local Woolworths supermarket.