Grocery shopping can very quickly get out of hand.
One minute, you're shopping for some milk and 30 seconds later you're heading to the checkout with four packets of chocolate biscuits, a punnet of lychees and some tinned caviar "just in case".
It's not ideal – and can quickly eat into your weekly budget and savings.
Financial expert and creator of the Sugar Mumma YouTube channel Canna Campbell shared her best tips to reduce the cost of your weekly supermarket shop on the latest episode of I Don't Know How She Does It.
Listen: How to cut the cost of your weekly grocery shop. Post continues after audio.

Not only are they simple AND effective, they're also a sure fire way to prevent those impulse buys.
1.Shop online.
Anything that involves not leaving your sofa? Count us in.
"Doing your grocery bill online actually gives you a lot more control. When we're in a supermarket, it's not until we get to the checkout, we go 'Uh! WOW, how did that add up'," says Campbell.
"And it's too awkward and we're too time-poor to go, 'I'm going to put a few things back' as it's all bagged up and ready to go.When you shop online, you can actually see 'Wow, this is adding up. Maybe I won't get that many punnets of organic blueberries' and you can kind of cut it down, control how it's all adding up."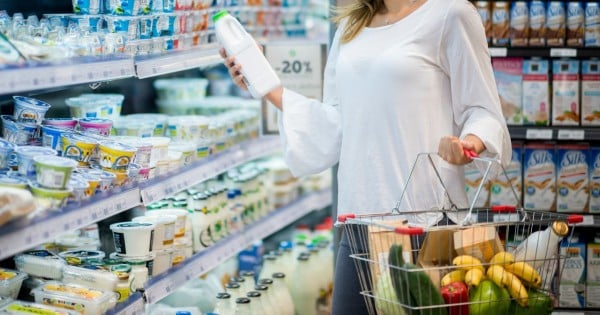 While there is an additional delivery fee, Campbell says it's often worth it.
"And I know people say 'Hang on, you've got to pay the delivery fee' but yes, you do but its like $11. You are paying $11 but someone is going to the supermarket, walking up the aisles, putting stuff into the bag, bag into car then into your house. So that $11 is a great investment."
2. Go with a plan.
And by that we mean a detailed list of everything you need for the week. Do not stray off it - even for those delicious looking treats currently on special.
"Check what ingredients you already have at home [so you don't double up]. It's so easily done to buy what you've already got in," she says.