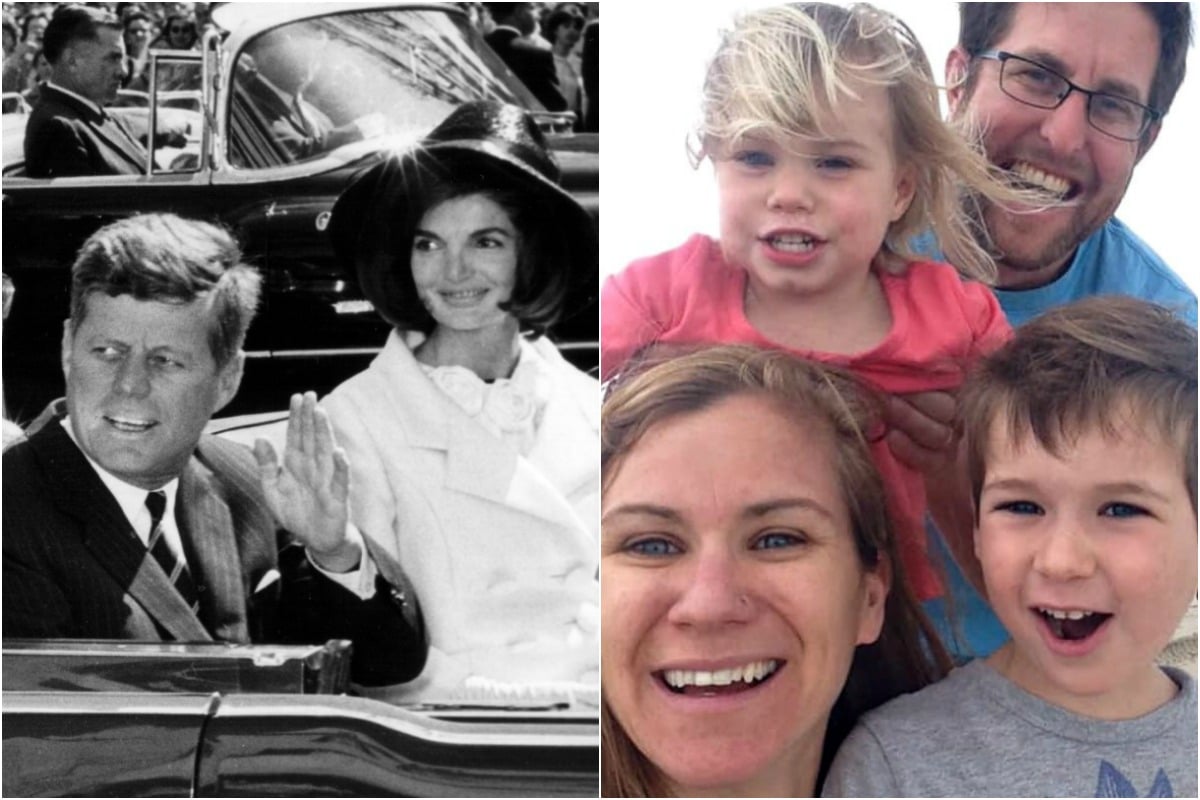 The following contains mention of suicide, which may be triggering for some readers. For 24-hour crisis support, please contact Lifeline on 13 11 14.
As the coronavirus pandemic began to grip the United States, Washington D.C. woman Maeve Kennedy Townsend McKean and her husband bundled up their three children and headed east to self-isolate at a family holiday home in Maryland.
There was more room for the kids there, more fresh air, and the waters of Chesapeake Bay lapped at the rear of the property.
On April 6, Maeve's body was pulled from those waters.
Eight-year-old Gideon's remains were recovered on April 8, 600 metres away from his mother.
The pair vanished after setting out on a canoe on Thursday April 2nd, reportedly to retrieve a ball that had been accidentally kicked into the water during a backyard game. Local authorities said it appears their small boat was "overtaken by the strong winds" that day.
The 40-year-old's death brings yet another wave of grief to her famous extended family: Meave Kennedy Townsend McKean is the granddaughter of slain US Senator Robert F. Kennedy (or Bobby, as he was often known) and the grand-niece of assassinated U.S. President John F. Kennedy.
Hers is a name that's associated with enormous power and influence in the United States, but also great tragedy.
The 'Kennedy curse'.
More than a dozen tragic deaths have befallen the Kennedy clan over the past seven decades; from plane crashes to accidents, assassinations and overdoses. As these high-profile tragedies compounded, the Kennedy name took on a sort of morbid mythology: those lost pegged as victims of a 'Kennedy curse'.
Of course, the most high profile deaths were the murders of brothers President John F. Kennedy and Senator Robert F. Kennedy Jr. The former was fatally shot in Dallas, Texas, on November 22, 1963, by an American Marxist and former U.S. Marine named Lee Harvey Oswald.
LISTEN: Inside the 'Kennedy curse.' Post continues after podcast.
Five years later, presidential hopeful Bobby was shot at a Los Angeles hotel on the night of his victory in the California Democratic Party primary — June 5, 1968. His assassin, Sirhan Sirhan, was a Palestinian angered by Kennedy's support for Israel in the 1967 Arab-Isreali Six-Day War.
Their deaths followed that of their eldest brother, Joseph P. Kennedy Jr, who died on August 12, 1944, when the BQ-8 aircraft he was piloting exploded over East Suffolk, England.
Aviation accidents also claimed the lives of Kathleen "Kick" Kennedy in 1948 and, infamously, John F. Kennedy Jr, his wife and sister-in-law. The trio died when the plane John Jr was piloting crashed into the Atlantic Ocean off the coast of Massachusetts in 1999.
Sadly, there are many others…