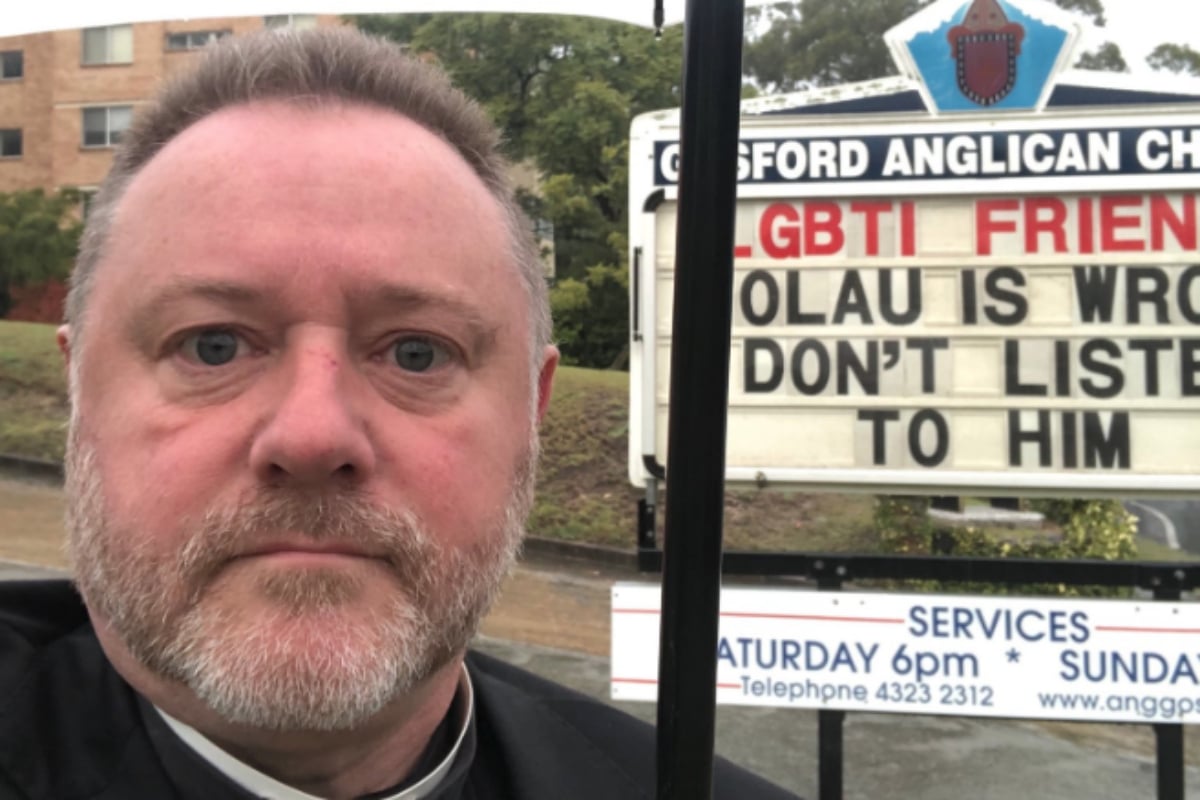 It was Tuesday afternoon when Fr Rod Bower received a message from Magda Szubanski. The comedian and campaigner wanted the Anglican priest from Gosford to join a group she was forming.
"I got a text from her saying, 'Darl…' as you do," Fr Bower tells Mamamia with a laugh. "She's wonderful. She floated this idea and immediately I said, 'Yes, let's do this'."
Magda Szubanski talks to Mamamia's Adam Bub at the Sydney rally. Post continues after video. 
Szubanski was bringing together a group of Christians, Jews, Muslims and atheists, both gay and straight, under the banner ForLove, as a response to Israel Folau's GoFundMe campaign. It's not hard to see why she approached Fr Bower.
Last week, after rugby player Folau launched a tirade against homosexuality and transgender kids, Fr Bower put up a sign out the front of his church, reading, "LGBT friends. Folau is wrong. Don't listen to him."
#israelfolau is the price we pay for #freespeech He has the right to say it and I have the responsibility to oppose what he says. #LGBT pic.twitter.com/g5iGvSydVS

— Fr Rod Bower (@FrBower) June 17, 2019
Not long after his tirade, Folau set up a GoFundMe campaign, aimed at raising $3 million for his legal battle against Rugby Australia, who sacked him after a string of homophobic social media posts.
"He's got his faith, and I believe he ought to be free to express that, which he is, as repugnant as I find it," Fr Bower says. "But Jesus tells us that if you're serious about your faith and expression of it, it can be costly. Okay, he wants the right to express it, but he doesn't like the bit about it being costly? So he wants to have his cake and eat it too.
"Also, Rugby Australia has a very clearly articulated policy of inclusion, especially with regards to the LGBTI community. I think a person of integrity wouldn't then want to work for an organisation that has such a clearly different set of values."