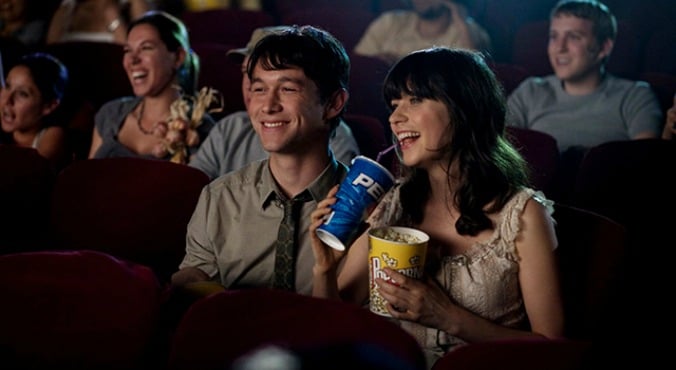 Image: [500] Days of Summer.
Today I learned the average Australian spends $144.40 on a date — yep, that's per person, per date. Over a year, you're looking at a grand total of slightly less than $6000.
According to popular dating website eHarmony, the price of a romantic rendezvous is even higher ($170!) for those who have been in relationships for one year or less; while the average single dater schills out around $130.
RELATED: The science of a successful first date.
Here's what I have to say to that: Ouch. And also… huh? I can't remember the last date that cost me more than 80-ish bucks. In fact, the most recent one cost less than $40.
So these new figures make me wonder: have I been doing this dating thing all wrong? Should I be ordering Moet instead of the house white? Do I need to do something more special to my hair than trying (and failing) to add some GHD waves? (Post continues after gallery.)
Our favourite on screen couples.
There's no denying dates can add up quickly — especially if you live in a part of the country where cost of living is especially high (oh hey, Sydney and Melbs), and your transport options are pricey. It also has to be said the cost of movie tickets and the accompanying snacks is comparable to a home loan these days, so that doesn't help matters.
And according to the survey, the average $144.40 figure is based on the following financial breakdown: $42 for meals, $30 for activities (movies or event tickets), $27 for drinks, and $31 on pre-date primping (new outfit and hair).
But to me, averaging $144 per date seems a bit crazy. Sure, it's fun to go all out and buy a new dress and new lipstick and hit the dinner-drinks-movie trifecta, but is that really the expectation every single time? God — if you're on a first or second date, you'd want to hope things worked out.
RELATED: "I asked all my exes why we broke up and, well, they didn't hold back."
Admittedly, I have been single for a while so I've had a lot of one-off dates and short (but sweet!) flings, which tend to revolve around after-work drinks and coffees. I also try to be careful with my cash, so that could also be a factor.
I guess what I really take issue with here is the notion that cheap dates are "boring", which is an attitude that emerged from the eHarmony research. "Nearly one quarter of Australians believe cheap dates are boring, and 44 per cent agree that creative and exciting dates are too expensive," reports the Daily Mail.