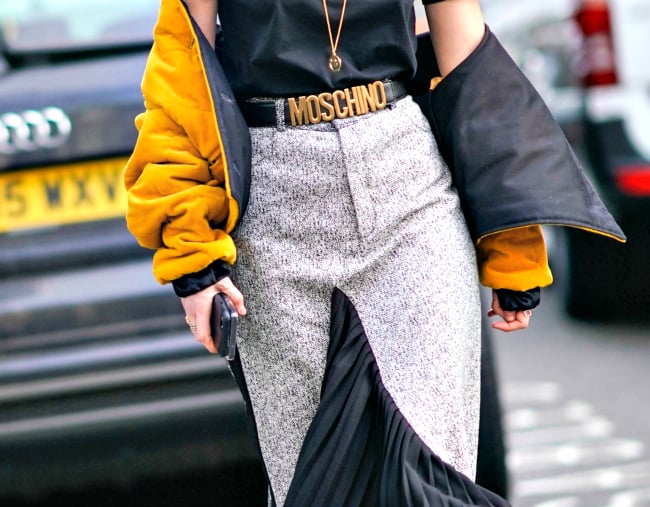 Ready your wallets, purses and debit cards because cult designer brand Moschino literally just hit H&M stores around the country.
Designed by Jeremy Scott, the MOSCHINO[tv]H&M range available in Sydney, Melbourne and Brisbane stores features women's and men's clothing and accessories.
Oh, and did we mention it also includes matching outfits for your dog? Or cat. Yeah, there'll be those too.
Think pop art colours, high-energy prints, extra glamour, sparkle, SO MUCH 90s BLING and Moschino's iconic gold logo.
Basically, these pieces are what you would wear if you were going to a party on a private yacht off the coast of Italy with a dress code of 'dripping in gold.'
But because this is real life and heck, who has the time for such nonsense, chucking on a MOSCHINO[tv]H&M piece with your 9-5 work outfit or on the way out to drinks is the easiest way to add some luxe to your life.
It's also just really fun.
Now onto the price a.k.a how much this is going to cost you…
At between $169 for a belt to $269 for a handbag, the MOSCHINO[tv]H&M is not cheap. But, it's cheaper than the $400ish you'd put down for a Moschino belt or $2,200 for a handbag. So if you're into designer clothes or have been wanting to add a designer handbag to your wardrobe for yonks, now would be the time.
For the rest of us, thankfully all you really need to add a dash of glam to your day is one or two key pieces. Phew.
To get you keen, here are the items from the MOSCHINO[tv]H&M range we'll be elbowing people out the way to nab this week.
Judging by the massive line outside Melbourne's Bourke Street Mall H&M store, you're gonna want to get in quick.
Moschino Bag, $199.