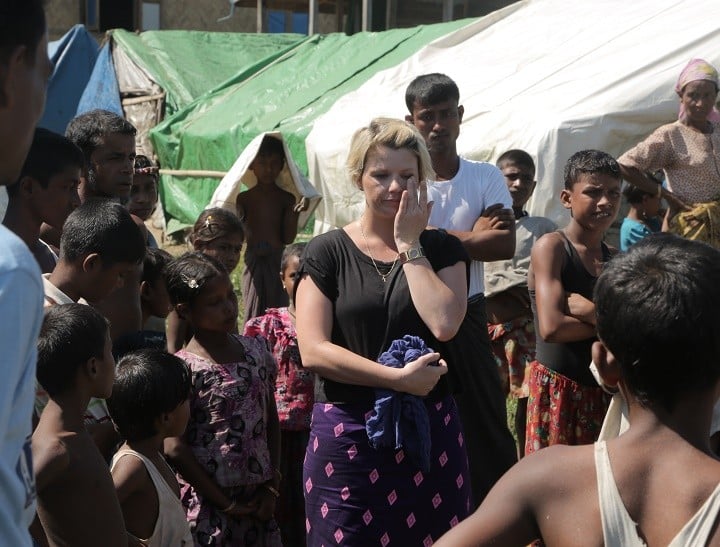 "They don't want to 'invade Australia'. They simply want a country to call home."
If you had asked me not long ago what I thought of asylum seekers and refugees, I would have said "turn back the boats".
I'm a proud Aussie and loved growing up in Australia. I didn't want my children growing up in a country overrun by foreigners. I thought, "How can we trust these people, especially when they come illegally by boat invading Australia?" I didn't think I was racist but just didn't want the Australia I know and love to change.
Everything changed when I had chance to see things through refugee eyes on Go Back To Where You Came From.
We started our journey in Lakemba, Sydney. I couldn't believe I was still in Australia. Within seconds of entering the main street I felt threatened and uncomfortable. Everyone wore hijabs and the burka and all the shop signs were written in Arabic. There wasn't an Aussie in sight.
Soon I found myself on a boat experiencing life at sea as an asylum seeker. I still didn't understand why anyone would risk their lives at seat to flee their country.
Thailand was the turning point for me. We trekked deep into the jungle and stood on the flattened undergrowth strewn with torn women's clothing. Only a couple of weeks earlier hundreds of stateless Rohingya people (often called the world's most persecuted people) were held captive here; many tortured, raped and killed.
Two teenage boys who had escaped their captives told their stories of being beaten, watching women being gang raped and having to carry dead bodies to shallow graves. Having twin teenage daughters myself, I immediately thought of them and became overwhelmed with emotion. I just lost it.