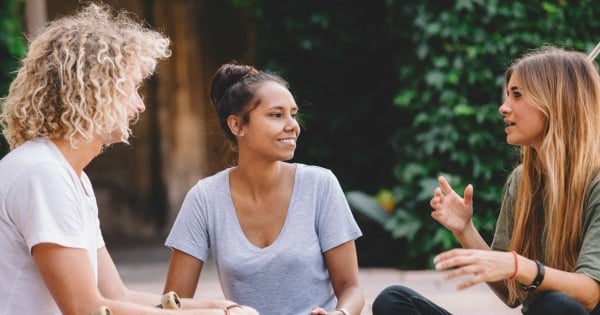 When I was 18 I was often angry and often wrong.  I'm pleased to say I'm less angry now, though still very, very often wrong.
Unfortunately, that mixture of anger and incorrectness led to something I'm not proud of. It's not easy to talk about things we are ashamed of, but there's one belief I used to hold that I am now ashamed of, and I need to discuss it.
One thing I used to be very angry about was affirmative action, especially around indigenous Australians. When I was 18 I railed against preferential selection into medical schools for indigenous students and what I saw as a disproportionate focus on indigenous issues in the curriculum.
Last weekend, I heard Brooke Boney (of SBS TV fame) talk about the health of Aboriginal Australians at the AMA National Conference. It was one of the greatest conference sessions I've ever been to, and it made me very uncomfortable.
Watch Charlie Pickering discuss the racism towards indigenous AFL star, Adam Goodes, last year. (Post continues after video…)
I was uncomfortable to think of the views I used to hold. They are not my views now. I like to think I am not a racist person, and that I don't discriminate on any basis, so how did I so passionately oppose something so good? And was it racism?
Well, I didn't see it that way at the time. Working from the basis that medical school places are finite, I saw it as something like this: an indigenous student with a lower ranking getting in over non-indigenous students is an act of unfairness.
I felt affronted for the applicant who missed out by one spot. It was their spot the indigenous entrant took in my mind. I thought I was being pretty fair and neutral about it. After all it wasn't self-interest, right? I had gotten in to my chosen medical school at the first crack so it couldn't be. Right?
I now realise I was wrong. I made two large errors.
The first error is to look at action in isolation. All affirmative action IS truly unfair when considered in isolation from the problem it is trying to address.
When the fire department sprays only 1 house out of 10 on a street with water that seems, and is, unfair – if you don't account for the fact only one house is on fire. Of course, fire departments are not controversial; it is very easy to convince yourself they are being fair, because you can see that only one house is on fire. Fire is eye catching.