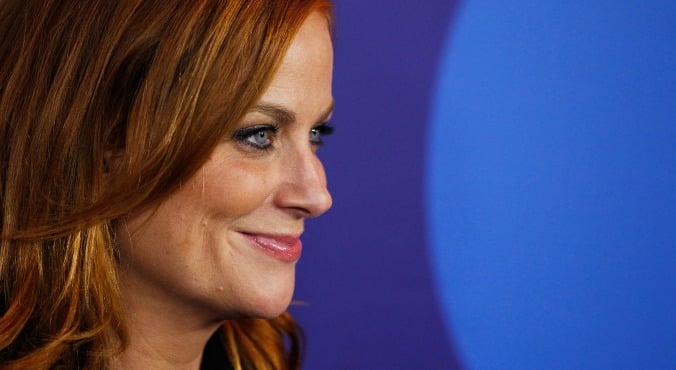 Image: Amy Poehler at the Australian premiere of Inside Out (Getty).
For many women, Amy Poehler is like the patron saint of joyful, unapologetic confidence. It's this quality — along with her obvious talent, wit and drive — that's helped the 43-year-old forge a successful path and respect in a field that's highly competitive and still largely male-oriented.
Yet in a new interview with The Guardian, the comedian, actress and director admits she grapples with the same self-defensive habits so many of us employ, like making jokes at our own expense and needlessly apologising.
RELATED: Amy Schumer on confidence – "I have a belly. And I have cellulite. And I still deserve love."
"It's a struggle sometimes, to not apologise for yourself. It's not easy. I have to really work at it, to not look in the mirror and think, 'God, I hate my face.' That demon is always there," Poehler tells writer Hadley Freeman.
"[Self-deprecation] can be super-charming, but it's also self-eroding. You also shouldn't pretend to be harder than you are. It's about fine-tuning the channel."
Amy Poehler's different characters.
Saying 'sorry' when you feel you've done something wrong is one thing, but so often we — women in particular, it seems — find ourselves apologising for not fitting societal expectations of appearance, behaviour or even the spaces we inhabit.
For so long women were expected to be small, meek, humble, kindly and not forthcoming with opinions or attitude; even now, this has a bearing on how many of us go about our lives.
RELATED: "Nicole Kidman's biggest regret is one I can relate to."
Recently, Nicole Kidman recalled how, in her younger years, she used to be 'afraid of her own power' and would adjust her behaviour so that she wouldn't threaten or intimidate other people. "It's a great sadness wishing to be less than you actually are. And it's hard to take on the world when you're constantly in a battle with yourself," the actress said.
"Women are too susceptible to the voice that tells us we need to be accepted… [this] leads women to second-guess our decisions, to ignore our own confidence, to revert to a place that we think is safe, acceptable."
Amy Poehler seems to agree with this, and refuses to be limited by her diminutive stature or "cute" appearance. The Parks and Recreation star sees life as "like being attacked by a bear", and says it's important to steel yourself accordingly.