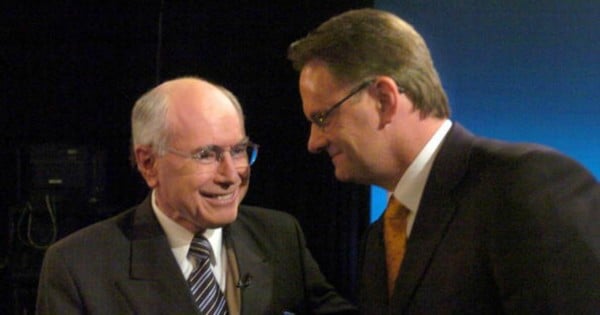 Australians tend to approach the democratic process in the same way they approach a redback spider in a dunny: reluctantly, with an air of mild disgust, driven by the obligation to do something necessary but unpleasant.
Given we've been forced to this double dissolution election on dubious grounds having had five Prime Minister's in six years the collective national response was as follows:
Democracy? GREATTTTTTTTTTTTTTTTTTTTTTT.
For some nations, choosing amongst the options presented up at elections is like picking a dish from the buffet on a gastro-riddled cruise ship, with potentially horrible results:
Possibly America's next, and perhaps last, President.
Australia's politics haven't descended into farce, yet, but before you judge another country on the quality of their politicians just remember some of the folk we've elected within recent memory:
Like the dinosaurs, Clive Palmer seems likely to become a historical novelty.
Pauline "I don't like it" Hanson. Source: Channel 9.
Pauline has diversified her "I don't like it brand" to include a more diverse range of people.
There's a distinct lack of enthusiasm for this year's election campaign. Both because it's one of the longest in recent memory, and because it's occurring outside the usual election cycle.
Remember how we HAD to go to this election to pass bills creating the ABCC to reign in the union movement? Yeah, seems our leaders haven't either. The issue hasn't come up since the campaign began, Labor has no reason to bring it back into the spotlight and the Coalition knows most Australians don't really care.
Australian's like elections, as much as this leopard enjoys vegemite.
But if Malcolm thought it'd be an easy campaign, he was wrong. Bill Shorten has shorted his shit out and defied the low expectations of the electorate to create a serious contest. Malcolm's still expected to win but Bill's now ahead in some polls so to save you the effort of reading the bilge produced by our so-called leaders, here's a summary of the weeks events.
THE ISSUES
We've already had our first backflip and the winner is: the Coalition!
The so-called backpacker tax, was introduced in the budget and would have imposed a 32.5% tax on working holiday-makers, raising $40 million. It's now going to be "reviewed" (i.e. scrapped).
The first of many backflips to come.
And we've already had our first serious blunder. Immigration Minister Peter Dutton bumbled onto Sky News and speaking about refugees, declared: "For many people — they won't be numerate or literate in their own language, let alone English. For many of them that would be unemployed, they would languish in unemployment queues and on Medicare and the rest of it, so there would be huge cost and there's no sense in sugar-coating that, that's the scenario."